The Action Loops soundbank contains fast and energetic sound loops to use in website or audio production. Quick tempo, frenetic rhythms. Drums feature heavily. Free music loops to download below in wav file format.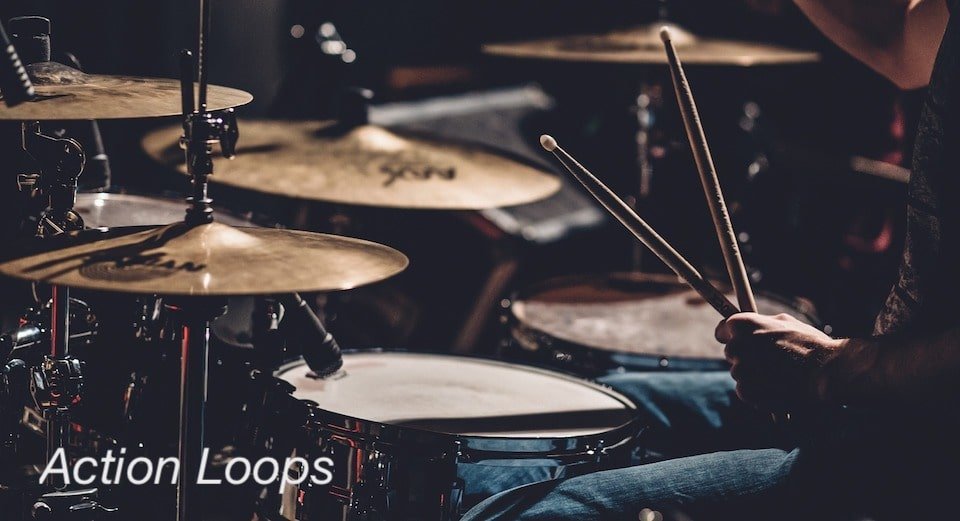 What is an Action Music Loop?
An action music loop is a short sample of instrumental music that is designed to evoke tension and excitement in scenes where there are moments of high intensity.
Music loops for action scenes are usually composed with an orchestral sound palette, which has become the ubiquitous accompaniment to scenes of cinematic violence.
In the Element
Download "In the Element"

in_the_element.wav – Downloaded 2773 times – 501.21 KB
Minor Clam
Download "Minor Clam"

minor_clam.wav – Downloaded 1531 times – 499.12 KB
Step Out Gert
Download "Step Out Gert"

step_out_gert.wav – Downloaded 1428 times – 522.48 KB
Wah Fuzz
Download "Wah Fuzz"

wah_fuzz.wav – Downloaded 1302 times – 300.55 KB
Cikku
Download "Cikku"

cikku.wav – Downloaded 1464 times – 242.68 KB
Action Music Loops: How To Find Them, What They Are and Why They Should Matter to You!
How Looped Music Can Help You Create the Perfect Film or Video Game Soundtrack?
Soundtracks and sound effects play an essential role in creating the environment and mood of a film or video game. Nevertheless, those who are not proficient in music composition may find it difficult to create such music.
The ideal solution is to use an audio loop as background music to create the desired effect without having to spend time on the production process. But how do you use an audio loop in a film?
This article will show you how to attach a loop file to your project and place it at different locations in your editing timeline for seamless playback.
Where to Find Action Movie Audio Loops?
Audio loops are a great way to spice up your video production without breaking the bank. When you need a quick fix or do not have enough time to create your own. Try downloading some audio loops. It is a good solution!
How To Make Your Own Action Music Loops With Your Computer or Smartphone
This section will teach you how to make your action music with your computer or smartphone.
Many free online tools allow you to convert your favourite song into an audio loop. If you want to use one of these tools, make sure to keep the following in mind:
Use a composition that is at least two minutes long – Do not use copyrighted music.
Keep the tempo of the song between 120 and 170 beats per minute.
Many people have found that using their computer or smartphone is more convenient for making their music loops because they are always with them.
If you decide to use a computer, try out GarageBand or FL Studio. If you want to use a smartphone, try out SoundCloud, Splice, or BeatMaker X HD.
Tips for Using Loops in Your Next Project
Why You Should Use Action Music Loops
Many commercial movie trailers, TV commercials, and other forms of promotional media start with an action music loop. These are short clips of music that are designed to generate excitement in the viewer.
They are usually between 5-30 seconds long. They are often used over and over again in a series to keep the viewer on their toes.
Action music loops can be deployed in many different ways to generate excitement for a project or event. Consider using them to preface your video, introduce your company presentation, or create a background ambience for an event.
Alternate Online Resources to Look For Music Samples
There are a lot of different sites that offer some kind of music samples. Some offer loops. Others offer sound effects. Some offer both.
Here are some other online resources to look for music samples…
Looperman – Looperman offers a variety of loops from house to drum N bass, from hip-hop to jazz, from orchestral strings to techno drums and pads, all at different tempos and lengths. The only catch is that you have to sign up for an account before downloading anything – but it's free!
Beatport Sounds – Beatport Sounds are the search engine for the world's largest electronic music store Beatport. They let you download high-quality preview tracks in MP3 format with no registration required.
What are the Benefits of Using Sound Effect Loops in Your Project?
Sound effects loops are becoming popular in the multimedia industry. They provide users with high-quality sound effect files that can be used for various purposes.
There are many benefits to using sound loops in your projects, so let's take a look at some of the most popular reasons why this is so.
There are many key benefits to using sound loops in your projects. However, one of the most important ones is that it saves you time and money.
You can use these royalty-free sound effect files to get the best quality sounds without having to spend any additional time or money on buying new sounds or hiring a voice actor for your project.
How to Prepare a Soundtrack for Editing and Mixing in Serato DJ Pro
Serato DJ Pro is a DJ software that will help you mix your songs and create the perfect playlist for any occasion.
Here are some tips on how to prepare your soundtrack for editing and mixing in Serato DJ Pro.
Create a folder called DJ Mix on your Desktop or Laptop and place all of the songs you want to mix in it.
When loading each song, make sure to choose the same key and tempo.
Choose sync with these two songs when loading them into Serato DJ so that they will play at the same time.
If you want more than two songs in one mix. Add another song after syncing them, then sync it with all of the previous ones.