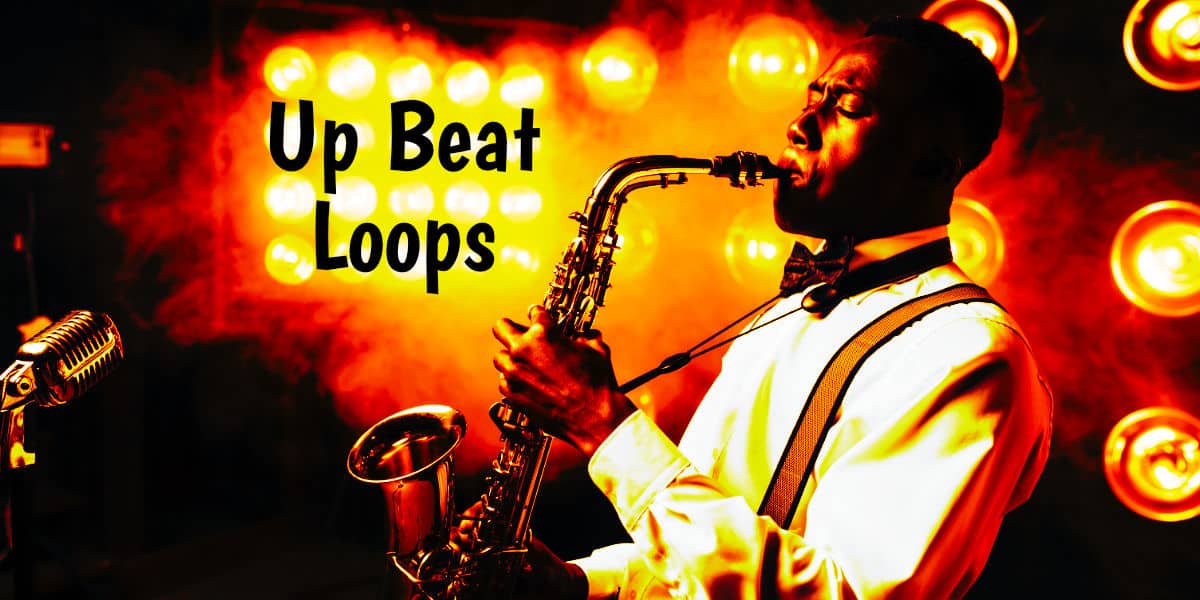 Free music sound loops with an upbeat feel for use in website production. Click on the link 'Download wav file' to download the file in 44.1k 16-bit stereo wav.
Movin' Out
Download "Movin Out"

movinout.wav – Downloaded 1363 times – 653.97 KB
Rosey
Download "Rosey"

rosey.wav – Downloaded 1046 times – 501.90 KB
Serious Mover
Download "Serious Mover"

serious_mover.wav – Downloaded 970 times – 335.99 KB
Strike A Deal
Download "Strike A Deal"

strike_a_deal.wav – Downloaded 935 times – 337.35 KB
Sway By Bay
Download "Sway By Bay"

sway_by_bay.wav – Downloaded 1056 times – 660.99 KB
Upbeat Loops for Background Music Video Production
An upbeat loop is a musical composition that uses samples and loops to create musical beats. In the musician's studio, notes or percussion adds to make the audio cut.
Music production software such as Ableton Live often includes buoyant rhythmic loops. It opens up new frontiers for musicians, allowing them to compose with ease on the computer. The loops help musicians focus more on the composition of their music rather than spending hours on tedious tasks like chopping up samples or arranging parts.
Upbeat Loops are an easy way for musicians to make professional-sounding music on their computers, whether recording it themselves or collaborating with other artists.
Optimistic Music Loops with An Positive Rhythm
The use of positive music loops in marketing is a great way to create a cheery, motivating environment and feels suitable for the employees.
If you're looking for upbeat music loops with a motivating rhythm, you can try a playlist on Spotify. You can also use our website's search tool to find more songs by genre or mood.
Inspirational songs and music loops are the perfect way to create a motivational and inspiring space to give some energy.
The use of upbeat background music loops is a new trend gaining traction in the past few years. It is a great way to energize your day and boost your mood at work or home.
The bouncy rhythm of upbeat loops makes it enjoyable to listen to, making it a great way to stay focused on the task at hand and keep you motivated throughout your day.
Rhythmic audio loops
Rhythmic audio loops are not new in the industry. They are widely used in radio and TV advertising to create a particular type of sound.
The radio jingle has been the go-to instrument for marketers to get their message across. And, it is still used today for many types of advertising – social media ads, email blasts, websites, etc.
But what about the modern era? Music is becoming more and more mainstream than ever before. And businesses are responding with musical content to reach customers on various platforms like YouTube videos or Instagram posts that entertain their audiences while educating them on their product or service.
The process of creating these background audio loops is simple. All you need to do is select a loop and play it. You can also use the loop as background music for your YouTube videos or podcast episodes.
Rhythmic audio loops are becoming increasingly popular with musicians and video producers alike because they offer this soothing sensation to their listeners.
How Up Beat Loops can Help with 5 Amazing Use Cases
There are many use cases for upbeat music loops. They can be used as background music for videos, podcasts, commercials, photoshoots, newscasts or anywhere else that you need a creative sound.
They are also great for creating sound design effects or adding that extra layer of drama to your project.
One way to use upbeat music loops is during the editing process of a film. This intervention would help filmmakers create the perfect atmosphere by adding some clever ambient sounds.
Another way to use upbeat loops is during podcast production. It's a great way to create some atmosphere and creativity for this type of content where there's often not much time to edit sound effects into your content.
These bouncy loops are also an excellent option when you're on-location shooting on location.
Upbeat Loop Inspiration and Tips for Beginners
Upbeat loops are "rhythm loops" that are based on the regular up and down rhythms in music. Unlike other looping clips, it is designed to be used without any music in the background.
You may have heard of these looping clips, but you may not know that they can be used for many purposes – from sequence shots to vlogs, podcasts, radio ads and more.
The most accessible genre of upbeat music loops is video editing. They also make a good companion for timelapse videos. This includes timelapse photos or videos on social media channels.
Composing Upbeat Music Tips
Most beginners tend to over-compress the sound, making the clip harder to listen to instead of adding some effects like reverb or delay, which would make it sound more natural.