If you want a simple description, this music file download is feel-good background music for video production.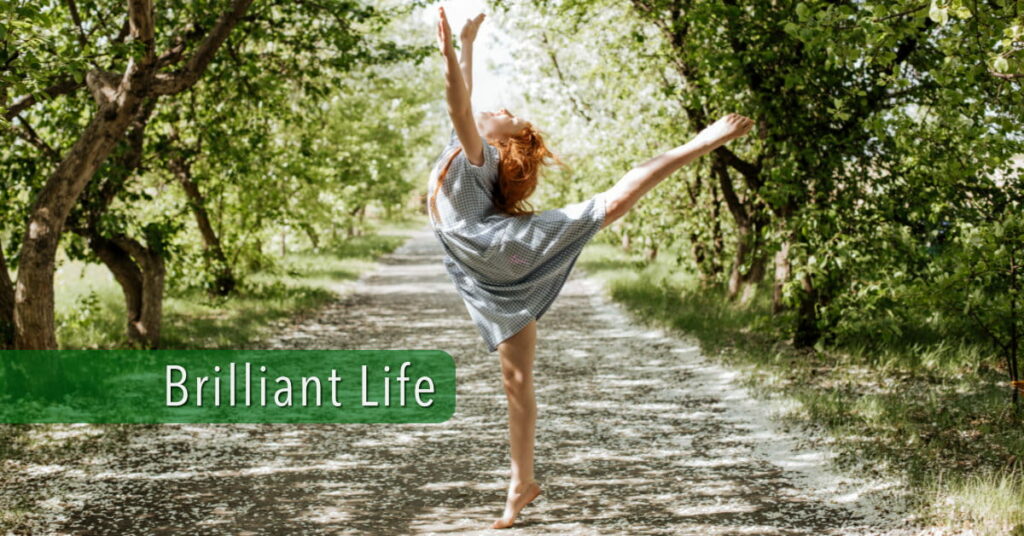 The Inspiration for This Theme Music
Here is a closer look at this music track to give you a better sense of what it is all about.
The inspiration for Brilliant Life draws from a natural musical setting. Imagine the dance-like qualities of a young woman on a country road. Spiralling gestures with outstretched arms reaching toward the sun.
Her raised head is poised and confident, expressing and confirming her need for freedom.
This inspirational music track incorporates the upper register of musical instruments before breaking into a lively musical beat.
Imagine the young lady moving gently to the rhythm of life. She expresses her youthful qualities with outstretched arms towards the sky. The scene is natural and full of light.
Three Audio File Edits for Your Video Editing Software
This vibrant audio track includes three edits for your video editing suite
60-second full audio theme version
30-second condensed theme version
15-second top and tail edit version
This audio track is perfect for various video production applications. Examples include online advertising, television advertising, social media productions or podcast introduction music.
Other descriptive words to describe this music include background music, theme music, mood music or an instrumental music pad.
Download Brilliant Life in Wave File Format
The audio format of this audio track file is in wave file format (.wav) at 44.1khz, 16-bit stereo. For more information on the wave file format, see this article on Waveform Audio File Format.
This audio file is ready for instant download using the buttons provided.
1) Brilliant Life – 60 Second Edit
Download "Brilliant Life (60 second edit)"

brilliant-life-60sec.wav – Downloaded 772 times – 10.36 MB
2) Brilliant Life – 30 Second Edit
Download "Brilliant Life (30 second edit)"

brilliant-life-30sec.wav – Downloaded 339 times – 5.32 MB
3) Brilliant Life – 15 Second Edit
Download "Brilliant Life (15 second edit)"

brilliant-life-15sec.wav – Downloaded 321 times – 2.71 MB
Inspirational Music for A Brilliant Life
Feel good music is played as a way to inspire people to do better. It is an emotional connection that connects with our souls and helps us get through hard times. Music has the power to motivate, inspire, and create the mindset that we need.
Some research has shown that music can help improve physical performances, decrease pain tolerance, and reduce anxiety levels.
Sound is a powerful force in the world, and it can do wonders for your mood. It can make you feel happy, sad, accomplished or jovial. Music has been shown to increase creativity and improve cognitive performance, so adding some upbeat tunes.
A person's mood can be changed by the power of feel-good music. And it can even help reduce anxiety, improve sleep, and elevate work performance.
Inspirational music is a genre of music that has been proven to be effective in raising people's spirits. It's characterized by its use of lyrical, melodic, harmonic, rhythmic, and sometimes vocal elements to communicate the artist's feelings or thoughts. Music can be a great way to relieve stress, feel happy or just get in the mood.
It has been shown that people who listen to music while working are more productive. It also helps when you are studying or need some energy when you are exercising.
The power of music is undeniable and it is not surprising that it has become a powerful tool for marketers.
More Background Music For Video Production
Freesounds.info has a number of production music tracks available for free download. Make sure to see the Production Music section of the website for a complete listing of audio tracks available.