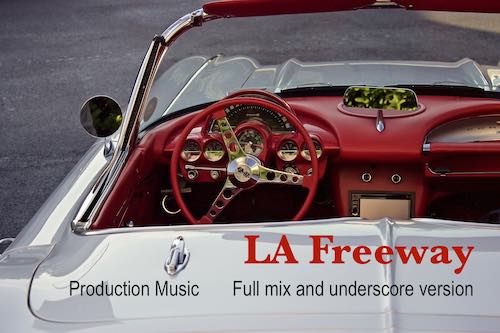 About the composition
Free background music titled "LA Freeway" to use in your audio-video production. A 15-second upbeat music piece. Download both the full mix and underscore version in 256 kbps mp3 format.
Uses for this music…
Youtube background music
Video Production
Audio bed for voiceover
Games production
Website background music
Download Audio Files
Audio format in 256k mp3, 44.100 kHz
The audio track LA Freeway was inspired by a free-flowing run on the freeways of Los Angeles on a warm summers day. The emotional vibe is upbeat and the radio is blasting out as if there isn't a care in the world.
More About Free Background Music – What It Is and Where to Find
Background music is the sound that plays in the background of a television show, movie, or video game to create an emotional response. This type of music can also be used to reinforce the mood of the scene.
The ambience that background music creates is an important aspect of storytelling. It can make us laugh, cry, or feel suspenseful. Music can build anticipation for something exciting about to happen on screen. 
In the world of motion pictures, the mood music is very important as it does more than just create a pleasant soundtrack; it also makes viewers feel as though what's happening on screen is worth watching and they want to learn more about it.
Free Background Music has become very popular over recent years because people don't want to spend money on this kind of service when they are looking for free options that are just as good as paid ones.
The music is the most important part of any film.
It sets the mood, it tells the story, it can be funny or sad. When I was a kid, I used to watch movies with my mom and she would tell me that if you hear an orchestra then things are going to get really serious.
Finding Music to Add to The Background of Your Video Production
Downloading background music for free is something that is hard to find, but luckily there are plenty of websites that offer this kind of service. You can find anything from happy tunes to sad strings for free or even traditional classical music for free! You'll never have to worry about the perfect soundtrack again!
Here are two tracks found on the FreeSounds Info website…
Mood music can change the mood of a scene. Quite commonly the music is instrumental, often recorded in the absence of dialogue or other sounds. It has been used in various ways in film, television, radio and theatre productions.
Free Background Music is typically free to download or stream because it's used for noncommercial purposes. Find for free can be found online by doing a simple search.